Visiting a zoo, wildlife park or other accredited captive animal facilities are good places to see meerkats, rather than going through the expensive drama of trying to purchase one as a pet or travel to Africa. Some institutes, at additional charge, allow visiters to feed the meerkats and adopt or sponsor one. Below is a list of zoos, shelters or parks that are currently holding or have held meerkats. Please note: these lists are incomplete for some countries.
United States
Edit
Wildlife World Zoo and Aquarium
Woodland Park Zoo
United Kingdom
Edit
Axe Valley Bird and Animal Park
Bristol Zoo Gardens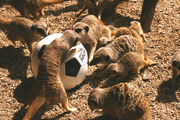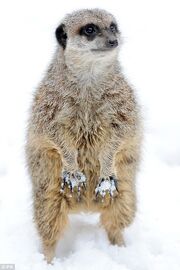 London Zoo
Paradise Wildlife Park
Twinlakes Animal Theme Park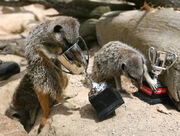 Beale Wildlife Park and Gardens
Hamerton Zoo Park
Chester Zoo
Newquay Zoo
Paignton Zoo Environmental Park
Lakeland Wildlife Oasis
Trotters World of Animals
Dartmoor Zoological Park
Drusillas Park
Screech Owl Sanctuary
Woodlands Park
Exmoor Zoo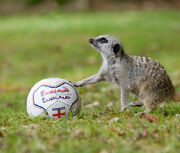 Seaview Wildlife Encounter
Port Lympne Wild Animal & Safari Park
Howlett's Aspinalls Wild Animal Park
Woodside Wildlife and Falconry Park
Battersea Park Children's Zoo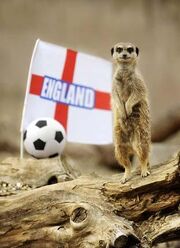 Kirkley Hall Zoological Gardens
Tropical World Roundhay Park
Blackbrook Zoological Park
Chessington World of Adventures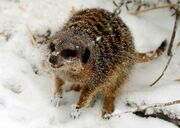 Dudley Zoological Gardens
Loneleat Safari and Adventure Park
Folly Farm Adventure Park and Zoo
Blackisle Wildlife Park
Durrell Wildlife Park
Blair Drummond Safari and Adventure Park
Australia
Edit
Adelaide Zoo
Altina Wildlife Park
Billabong Wildlife Park
Monarto Zoo
National Zoo and Aquarium
Taronga Western Plains Zoo
.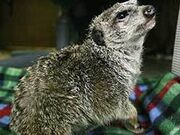 Ameins Zoo
Amneville Zoo
La Palmyre Zoo
Le Vigen Zoo
Paris Zoo
Thoriy Safari
New Zealand
Edit