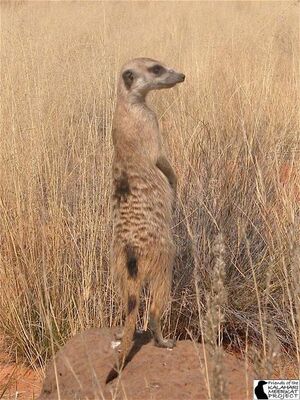 Ziggy
(VLM093) was born in the
Lazuli on
February 22, 2004. His mother was
Cazanna
and his father was
Basil
. His litter-mates were his three sisters
Aretha
(VLF094),
Jane
(VLF095) and
Penny
(VLF097) and his one brother
Jethro
(VLM096). At the age of two months , Ziggy went blind in one eye for unknown reasons. However, he was able to adapt and it didn't bother him much. Ziggy and his litter-mates survived to adulthood and started helping out around the mob. Ziggy and his brother Jethro started to take to roving with the older males in the group. His father Basil sadly died on July 3, 2005 of tuberculosis so Ziggy's older brother
JD
took dominance. However he left the group the fomred the
PQ
and then the
Starsky
, so Ziggy's other older brother
Padloper
took male dominance. All the adult males went roving one day and three rovers,
Yossarian
,
Zarathustra
and
Sepp
, came across the Lazuli and stay few days mating with the females. When the Lazuli males returned, they attcaked the three males killing Sepp and babdly injuring Yossarian. Ziggy was probably one of these males and he help chase the rovers away. Zarathustra returned to the
Whiskers Mob
while Yossarian and Sepp died. Ziggy stayed in the Lazuli for a little over two years before he left the group to go roving with other males. His mother Cazanna died in 2008 and so Aretha, Ziggy's litter-mate sister, won dominance of the Lazuli. His sisters Penny and Jane had disappeared by then. Ziggy was Last Seen on May 5, 2006.
Family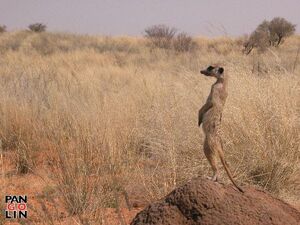 Mother:
Cazanna
Father: Basil
Brother: Jethro
Sister: Aretha, Jane and Penny
Grandmothers: Ziziphus and Vivian
Grandfathers: Belgarion and Stinker
Great Grandmothers: Morgause and Venus
Great Grandfathers: Keros and VAM002
Great Great Grandmother: Mabili
Links
Ad blocker interference detected!
Wikia is a free-to-use site that makes money from advertising. We have a modified experience for viewers using ad blockers

Wikia is not accessible if you've made further modifications. Remove the custom ad blocker rule(s) and the page will load as expected.