The Xhosa came into existance when three evicted Lazuli females combined with three Vivian males plus two wild rovers in late 2002. Their second litter first survived a burrow collapse because of a Gemsbok, was then abandoned, but finally was taken away by three Xhosa adults, one male and two females, who emigrated to form a new group with wild males. After the lost of most of the members, the Xhosa fell down to just two members remaining. Only one female and one male remained, and she was no longer followed after the male took to roving.
Dominant Pair
Ouagadougou and Zazu first took dominance. He was quickly ousted by Govinda. After all of the subordinate members disappeared, Govinda abandon Ouagadougou and took to roving before being Last Seen. Quagadougou was Last Seen the next day and her faith remained a mystery.
All Known Members
A list of meerkats born or joined the Xhosa.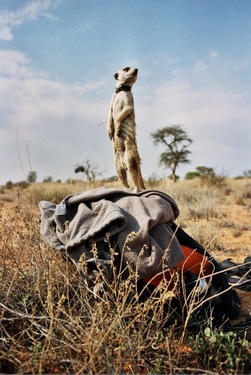 Addis Ababa (VLF060)
Ouagadougou (VLF061)
Conrad (VLF067)
Zazu (VVM027)
Govinda (VVM041)
Kamaswami (VVM042)
VXXM001
VXXM002
+ Plus Unknonw number of pups, at least three from second litter
History
November 2002: Addis Ababa, Ouagadougou and Conrad met up with two wild males VXXM001, VXXM002 and Vivian males, Zazu, Govinda and Kamaswami, who were returning to the Lazuli after roving. Ouagadougou and Zazu became the dominant pair.
Between December 2002 and March 2003: Zazu lost dominance to Govinda. Two litters were, the second was abandon. However three adults returned for the pups before combinding with wild males.
April 2003: Addis Ababa and Zazu were Last Seen.
July 2003: Conrad was Last Seen.
October 2003: Govinda took to roving and was Last Seen. A day later Ougabougou was Last Seen. Xhosa was Lost.
Ad blocker interference detected!
Wikia is a free-to-use site that makes money from advertising. We have a modified experience for viewers using ad blockers

Wikia is not accessible if you've made further modifications. Remove the custom ad blocker rule(s) and the page will load as expected.