Wolfie
(VJXM015)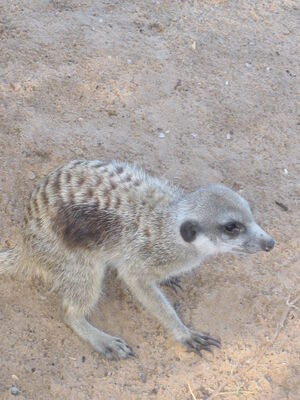 was born on January 18, 2009 in the
JaXX Mob
. His mother was
Diana
and his father was
Vince
, the dominant couple at the time. Wolfie's litter-mates were his two brothers named 
Rococo
(VJXM014),
Kariros
(VJXM016) and one sister named 
Gene
(VJXF017). Wolfie and his litter survived their first months of life. Two months after in March months old Diana,
Papillon
and 
Millie
were all pregnant but aborted their litters. Soon after this dominant male Vince and two subordinate males named 
Spike
and
Boost
diappeared. Diana was left without a dominant male and Wolfie lost his father, Wolfie's older brother
Kori
took dominance but stopped after a month. Wolfie's mother Diana became pregnant by a rover and gave birth in September, therefore Wolfie and his siblings were no longer be the youngest members of the group. Its only in March Wolfie's older brother Kori took the dominant male position again after none of the other males seem interested. Wolfie remained in the JaXX and soon started to rove with his brothers. He helped him mother with her new pups when he wasn't roving. In Janaury 2011 Wolfie went roving and did not return to the group. He was considered Last Seen.
Links
Ad blocker interference detected!
Wikia is a free-to-use site that makes money from advertising. We have a modified experience for viewers using ad blockers

Wikia is not accessible if you've made further modifications. Remove the custom ad blocker rule(s) and the page will load as expected.