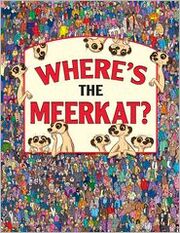 Where's the Meerkat? is a book illustrated and written by Paul Moran. It's a children's book introducing a meerkat family traveling the world in packed areas. It was released in September, 2011, by Michael O'mara Books.
Summary
In the book, a family of meerkats are travelling the world. They all appear in various famous places, and it is the reader's job to locate each of them. As well as finding the meerkats, a small checklist of items is included for each page, keeping the reader occupied for longer.
Links
Ad blocker interference detected!
Wikia is a free-to-use site that makes money from advertising. We have a modified experience for viewers using ad blockers

Wikia is not accessible if you've made further modifications. Remove the custom ad blocker rule(s) and the page will load as expected.