Whiskers
The Whiskers mob is played by the Whiskers and an unknown group
Flower is played by Flower
Zaphod is played by Zaphod
Youssarian is played by Yossarian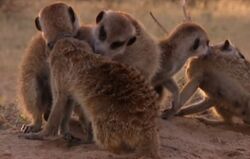 Mitch is played by Mitch
Mozart is played by Mozart and an unknown male meerkat
Apollo is played by Butch Cassidy
Nutmeg is played by Orinoco
Athena is played by Bananas
Blossom is played by Sundance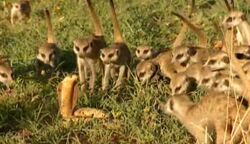 Pepper is played by Alonzo Mourning
Columbus is played by Machu Pichu
Sophie is played by Tina Sparkle
Spud is played by Spud
Mango is played by Ella
Commandos
The Commandos mob is played by the Vivian and an unknown group.
Hannibal is played by Jim Bob
Ozzy
 is played by
Douglas
and an unknown meerkat
Ad blocker interference detected!
Wikia is a free-to-use site that makes money from advertising. We have a modified experience for viewers using ad blockers

Wikia is not accessible if you've made further modifications. Remove the custom ad blocker rule(s) and the page will load as expected.