Kung Fu
Tyke
(VKUF061)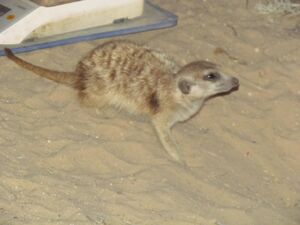 was born on August 14, 2011 in the
Kung Fu Mob
. Her mother was 
Kleintjie
and her father was most likely
Ningaloo
. Tyke was born into a litter of four, she had two sisters called 
Pronker
(VKUF060) and 
Tinker
(VKUF062), and one brother named 
Hankson
(VKUM059). Sadly, Tyke's sister Tinker was predated in March 2012. The rest of the litter survived to adulthood. In September 2012, Tyke's brother Hankson went roving for the first time. In February 2013 Tyke's sister Pronker was evicted and later disappeared. Tyke however was never evicted during her time in the Kung Fu. In July 2013 she voluntarily left the group along with seven other females after they had teamed up with eleven
Baobab
rovers.
Freakin' Awesome/Friksarmy
Together they formed a new group called the Freakin' Awesome Mob, which was later renamed Friksarmy. Being one of the younger females, Tyke didn't stand much of a chance in taking dominance and remained a subordinate. In December 2013 Tyke was evicted from the group along with Luka and Gypsy. The next month the three females formed a group of their own.
Ghostbusters
The new group was called Ghostbusters. With them were seven pups, most likely belonging to Gypsy. Luka became the dominant female of the group and Tyke once again took a subordinate position. In February 2014 two wild males joined the group and all of the females fell pregnant. Gypsy gave birth the next month but her litter was killed, most likely by Luka. Luka evicted Tyke and Gypsy and then gave birth to a single pup. In April 2014 both evicted females were accepted back into the group. Tyke then gave birth to her very first litter of four pups. However, something very unusual happened. The Friksarmy raided the Ghostbuster's burrow and stole all of Tyke's pups. Around that time four Ghostbusters' members; VGBP009, VGBP010, VGBP011 and VGBP012, were Last Seen. Only a month later Luka's single pup tried to join the Friksarmy but was killed. This left the Ghostbusters in dangerously low numbers. In June 2014 Luka, who was pregnant again, evicted Tyke and Gypsy, and then gave birth to a single pup. Sadly, both Tyke and Gypsy disappeared and were considered Last Seen.
Offspring
First litter born in April 2014, fathered by an unknown male.
VGBP009, Still Alive, living in Friksarmy.
VGBP010, Still Alive, living in Friksarmy.
VGBP011, Still Alive, living in Friksarmy.
VGBP012, Still Alive, living in Friksarmy.
Links
Ad blocker interference detected!
Wikia is a free-to-use site that makes money from advertising. We have a modified experience for viewers using ad blockers

Wikia is not accessible if you've made further modifications. Remove the custom ad blocker rule(s) and the page will load as expected.