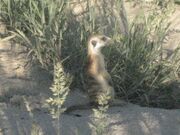 Troy (VVHF007) was born on April 7, 2008. Her mother was Billy (VWF093) and she had four littermates VVHM008, Kapau Kakoo (VVHM009), Buzz and Mr. Jacky (VVHM011). VVHM008 was predated as a pup and, VVHM010 was predated in September of 2008. Billy gives birth in February of 2009 to Krueger(VVHM018) and Manson (VVHM019). Kapau Kakoo disapeared and was never seen again in April, 2009. In October of 2009, Troy was evicted with her cousins Chole, Juani, Tortilla and her aunt, Flo. They all are thought to have immigrated into a new group.
Family Tree

    = Male
    = Female
    = Gender Unknown
Ad blocker interference detected!
Wikia is a free-to-use site that makes money from advertising. We have a modified experience for viewers using ad blockers

Wikia is not accessible if you've made further modifications. Remove the custom ad blocker rule(s) and the page will load as expected.