Trinity
(VAZM035)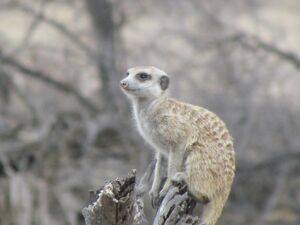 was born in either March 1, 2011 in the
Aztecs Mob
. His mother was
Monkulus
the dominant female and his father was an unknown rover. His litter-mates were
Aurora
(VAZM032),
Scratte
(VAZF033),
Bachi
(VAZM034),
Cinnamon
(VAZF036), VAZP037 and VAZP038. Sadly VAZP037 and VAZP038 were predated. The remaining five pups survived to adulthood. Sadly Bachi died in May 2012 along with
Rednose
and
Navi
. In October 2012, Moliere went roving with his younger brothers
Moliere
,
Mr. Ellie
,
Mr. Cat
and 
General Big Daddy
. Trinity was the youngest of the rovers. His brother Aurora also went roving around the same time but wasn't seen with the other males and disappeared. Trinity and his four older brothers visited the
Pandora Mob
, however the females of the mob were actually Trinity's older sisters so none of the males could mate with them. They visisted the Pandora again in Novemeber and were absent in December. During the males absence a group of
Sequoia
males had joined the Aztecs. Trinity and the roving coalition was Last Seen in January 2013.
Links
Ad blocker interference detected!
Wikia is a free-to-use site that makes money from advertising. We have a modified experience for viewers using ad blockers

Wikia is not accessible if you've made further modifications. Remove the custom ad blocker rule(s) and the page will load as expected.