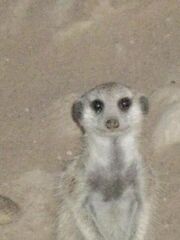 Tiger's Paw(VKUF010) was born in August 2008 in the Kung Fu Mob. Her mother was Kleintjie and her father was believed to be Ningaloo. Her litter-mates were her three sisters Eagle's Claw(VKUF010), Pai Mei(VKUF012) and Dragon's Fist(VKUF008). In December 2009 Tiger's Paw and many of her sisters were evicted from the group by dominant female Kleintjie. All of them except for Tiger's Paw managed to return to the group within a month. Tiger's Paw was Last Seen in December 2009.
Family
Mother: Kleintjie
Father: Ningaloo
Sisters: Eagle's Claw, Dragon's Fist and Pai Mei
Links
Ad blocker interference detected!
Wikia is a free-to-use site that makes money from advertising. We have a modified experience for viewers using ad blockers

Wikia is not accessible if you've made further modifications. Remove the custom ad blocker rule(s) and the page will load as expected.