Thor Drie Doring

Mob

Dominant

Yes, formally of the Drie Doring

Mate

None

Birth Date

September 3, 2006

Death Date

Disappeared by end of November 2008

Children

None

Known for

Dominant male of the Drie Doring

Also Known for

Over throwing Finn MacCool

Also Known As

Mist's brother
Drie Doring
Thor(VDM114) was born in the Drie Doring group on the 3rd September 2006. His parents were Makonkie and Osprey. He was born in a litter of 3 pups, his two litter-mates were Mist(VDM115) and Loki(VDM113) . He and his siblings all survived to adulthood. Thor lived the first part of his life as a subordinate male in the group. His father Osprey was dominant male of the Drie Doring for a long time. He had joined the group sometime when Makonkie took dominance in mid 2005. By next September, Thor's sister Mist and his mother Makonkie gave birth to four pups, one of the pups died. Thor and Loki were now an unless. They helped his mother and sister raise their pups. By October 2008, his brother Loki left the group with Damian. His father Osprey died and Finn MaCool took over as dominant male. By end of October 2008, his mother Makonkie died and his sister Mist took over as dominant female. Thor then overthrew Finn MaCool and took over as dominant male. He could not breed with Mist but still performed well as the dominant female of the group. He was often seen on sentry. He was proving himself to be a worth dominant like his father. Mist gave birth to some litters in the group, the pups lived. By November 2008, Thor left the group to go roving and did not return to the group. After his departure, Finn MaCool took back the role of dominant male of the group. Thor might have joined another group.
Meerkat Manor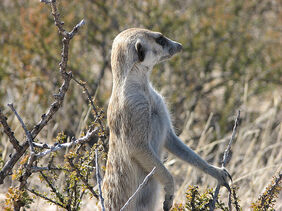 Like Finn MacCool, Thor never really appeared on Meerkat Manor, nor did the rest of the Dire Doring. However, he and Finn MacCool may have been responsible for playing Frank and Houdini of the Zappa Mob fighting for dominance.
Family
Mother: Makonkie
Father: Osprey
Sister: Mist
Brother: Loki
Grandmothers: Mabili and Cazanna
Gandfathers: unknown male and Basil
Great Grand mothers: Unknown, Ziziphus (Cazanna) and Vivian(Basil)
Greath Grandfathers: Unknown, Belgarion(Cazanna) and Stinker(Basil)
Great Great Grandmother: Morgause
Great Great Grandfather: Keros
First Known Ancestor: Venus
Links
Ad blocker interference detected!
Wikia is a free-to-use site that makes money from advertising. We have a modified experience for viewers using ad blockers

Wikia is not accessible if you've made further modifications. Remove the custom ad blocker rule(s) and the page will load as expected.