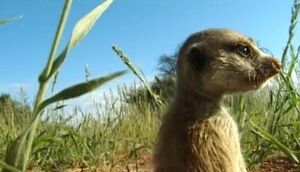 Sundance(VWF099) was born in the Whiskers on November 11, 2005. Her mother was Flower, and her father was Zaphod. Her litter-mates were Bananas(VWF097), Butch Cassidy(VWM098), Orinoco(VWM101), and Alonzo Mourning(VWM100). When old enough to forage, she got separated from the rest of the Whiskers and got lost in the grass, which towered over the small pup due to it being the rainy season; luckily, a babysitter found Sundance and brought her back. A few weeks later, Sundance got separated from the Whiskers again- but this time, she met her fate. Sundance cried for help to no avail, as none of her family were around to hear her. She was spotted by a goshawk on January 2, 2006, and the bird of prey killed her. Her litter-mates all made it to adulthood, and Bananas, Orinoco, and Alonzo Mourning helped form the Aztecs, while Butch Cassidy remained in the Whiskers the longest.
Meerkat Manor
Sundance appeared in the second season of Meerkat Manor as the adventurous pup named Blossom. Her brothers, Butch Cassidy, Orinoco, and Alonzo Mourning, played as Blossom's siblings Apollo, Nutmeg, and Pepper, and her sister Bananas played Athena. Blossom was first mentioned in the episode "The Art of Leadership", in which it is mentioned that when the group went out foraging, she was reluctant to leave until her sister Athena offered some encouragement. In spite of her late start at the burrow, Blossom was the first to get a meal. In the following episode, "Balance of Power", Blossom sneaked away from her babysitter Youssarian and got lost, but Youssarian managed to find and save her. Then, in "Growing Pains", Blossom wandered off again, getting lost a second time. Unfortunately, the group was unaware of her absence, so the pup sadly fell victim to a goshawk.
Family
Mother: Flower
Father: Zaphod
Uncle: Yossarian
Sister: Bananas
Brothers: Butch Cassidy, Orinoco, and Alonzo Mourning
Links
Ad blocker interference detected!
Wikia is a free-to-use site that makes money from advertising. We have a modified experience for viewers using ad blockers

Wikia is not accessible if you've made further modifications. Remove the custom ad blocker rule(s) and the page will load as expected.