Stumpy
(VWM113) was born on November 20, 2006, into the
Whiskers
. His mother was
Flower
, the dominant female, and his father was
Zaphod
, the dominant male. Stumpy had one litter-mate brother named
Ren
(VWM112); they were Flower's thirteenth, smallest, and final litter. Stumpy was born with a deformed front limb, but survived to where he and Ren began to forage with the adults. On December 3, 2006, the Whiskers split into two halves. Stumpy and his brother were a part of the half led by 
Rocket Dog
. The subordinate females
Finn
and
Bananas
suckled Stumpy and Ren, but Stumpy was often ignored by the rest of the group, likely due to his disability. Stumpy and his brother Ren were both Last Seen on December 19, 2006.
Meerkat Manor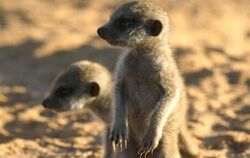 Stumpy primarily played a pup named Squiggy on Meerkat Manor, though he also briefly played as Izzy and Axel. His brother Ren played a pup named Len. In some versions of the show, he and his brother were called by their real names. Stumpy first appeared in On Dangerous Ground as Izzy and was seen being rescued from an owl by Sophie(Tina Sparkle). After Flower mated with Houdini(Aurinko) in the episode The Death of Romance, she gave birth to Squiggy and Len, but both did not make an appearence until the next episode, The Tale of Len/Ren and Squiggy/Stumpy. Both pups were separated from their mother in a group split. Rocket Dog and Mitch(Zarathustra and Pozzo) took charge of the splinter group. The pups were taken care of by Daisy(Finn), Sparkle(Bananas), and Mitch but sadly, due to a lack of food, the group struggled to protect the pair. Len was predated by a hawk, and Squiggy was later left behind by the group. Footage of Stumpy being abandoned was then used to briefly portray Axel in the episode Journey's End.
Links
Ad blocker interference detected!
Wikia is a free-to-use site that makes money from advertising. We have a modified experience for viewers using ad blockers

Wikia is not accessible if you've made further modifications. Remove the custom ad blocker rule(s) and the page will load as expected.