Solo
was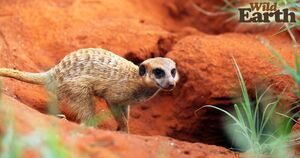 First Seen in the
Gosa Mob
as an young female. Her age, parents and litter-mates are unknown. The Gosa had suffered a large group split bringing the number of the Gosa from 22 to just 10 members. In February 2012, it was discovered that Solo had been evicted from the Gosa group by the dominant female,
Cleopatra
. However, there was speculation that Solo had been on her own since November 2011. In March 2012, Cleo found Solo underground and attacked her. The next month, the Gosa divided into two groups. One half was led by
Delilah
. Solo siezed the opportunity and joined Delilah's group. Delilah's group rejoined the main Gosa mob and Cleopatra allowed Solo to stay. After this, a roving male visited the group and mated with Solo. The Gosa realised that Solo had been with the outsider but did not punish her. Luckily for Solo, she didn't fall pregnant. Later on, however, one of the males in the group,
Brutus
, attempted to mate with Solo but the dominant male
Gandalf
didn't allow it. Solo is still alive and living in the Gosa today.
Links
Ad blocker interference detected!
Wikia is a free-to-use site that makes money from advertising. We have a modified experience for viewers using ad blockers

Wikia is not accessible if you've made further modifications. Remove the custom ad blocker rule(s) and the page will load as expected.