Lazuli
Sleepy
(VLF05?)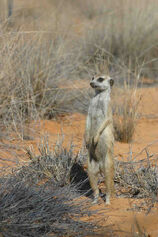 was born into the
Lazuli
on January 21, 2000. She was born into a litter of seven, her siblings were
Grumpy
(VLF055),
Doc
(VL?0??),
Happy
(VL?0??),
Bashful
(VL?0??),
Sneezey
(VL?0??) and
Dopey
(VL?0??). Her mother was
Ziziphus
, the dominant female of the Lazuli, and her father was
Belgarion
, the dominant male. Sleepy's litter-mates all survived to adulthood. When Ziziphus died to disease on December 28, 2000, Sleepy's older sister
Haslam
became the dominant female but she was soon overthrown by
Cazanna
some time later. After this, Sleepy's brothers began roving. Dopey and Bashful disappeared on October 17, 2001, followed by Doc three days later on October 20, 2001. Then on August 20, 2001 Happy disaapeared and Sneezey disappeared on August 15, 2002. Sleepy and Grumpy were evicted in 2001 and teamed up with some Drie Doring males.
Moomins
The Drie Doring male stayed with the two Lazuli females and started a new group called Moomins. Grumpy became the dominant female and Burgan assumed the position of dominant male. The group had trouble raising their first litter of pups but it was Sleep who gave birth to the first survivin litter fathered by Cassia. On December 9, 2002 Sleepy gave birth to Little My, Sniff, Snufkins, Moomintroll and Fillyjonk. The pups survived their first few months but sadly Fillyjonk was predated on May 27, 2003. All the other pups survived to their first year. Grumpy started producing littered so she started to evicted Sleepy who was the eldest female. In December 27, 2003, Sleepy was evicted and Last Seen. Moonitroll and Snufkin left the Moomins in 2005 and joined a wild mob. Moomintroll was seen as a dominant male of a wild group. Sniff disappeared August 4, 2005 while roving leaving Little My as the last of Sleepy's children in the Moomins. She was Last Seen in December 2007.
Family
Mother: Ziziphus
Father: Belgarion
Siblings: Grumpy, Doc, Happy, Bashful, Sneezey and Dopey.
Mate: Cassia
Chlidren: Little My, Sniff, Snufkins, Moomintroll and Fillyjonk
Links
Ad blocker interference detected!
Wikia is a free-to-use site that makes money from advertising. We have a modified experience for viewers using ad blockers

Wikia is not accessible if you've made further modifications. Remove the custom ad blocker rule(s) and the page will load as expected.