Shakespeare Whiskers

Mob(s)

Dominant

No

Date of Birth

November 8, 2002

Date of Death

March 11, 2005

Cause of Death

Last Seen, killed by Basil

Parents

Litter-Mate(s)

Mate(s)

None

Children

None

Known For

Rescueing his brother

Mitch
Whiskers
Shakespeare
(VWM054) was born on November 8, 2002 in the
Whiskers
. His mother was
Flower
and his father was
Zaphod
. His litter-mates were sister
Mozart
(VWF053) and two brothers
Einstein
(VWM052) and
Freud
(VWM055). Shakespeare and all his litter-mates survived their first part of life in the group. On January 17, 2003 his mother Flower gave birth to
Pookie
,
Cookie
and
Sookie
after mating with a Gattaca male. His father Zaphod lost dominance to
Yossarian
around the time Flower mated with the Gattaca male. On March 18, 2003, his litter-mate brother Freud disappeared from the group. One of Flower's recent pups Sookie disappeared. Cookie died on March 21, 2003. Flower gave birth on August 7, 2003 and gave birth to
Kinkaju
,
Rocket Dog
,
Ragga Muffin
and
Super Furry Animal
. Shakespeare's older sister
Baddiel gave
birth to her first litter on March 9, 2004 to
De La Soul
,
Arrested Development
,
Flava Flav
and
Bad Boy Bubby
. The whole litter survived. Shakespeare's mother Flower gave birth to her fifth litter on February 22, 2004 to
Monkulus
,
Armanita Ditch
,
Pozzo
,
Lucky
and
Zarathustra
. By then Shakespeare was a full grown meerkat in the group and a regular senitel and babysitter. His father Zaphod won back dominace from his uncle Yossarian . One of Flower's recent pups, Lucky, disappeared on June 7, 2004. Flower gave birth to her sixth litter of pups on September 6, 2004 to
Hawkeye
,
Logan
,
Mitch
and
Cruise
. Mozart gave birth to her first surviving litter on September 28, 2004 to
Tina Sparkle
, VWF077,
Spud
and VWM079. Baddiel gave birth to her second litter on
Maladoy
,
Jogu
and VWM082.The litter had to remain at the burrow until Mozart and Baddiel's litters were old enough to forage as well. When the pups reached three weeks old, a group of naughty juvenile meerkats took one of the three week old pups, Mitch, from the burrow and carried him off. Kinkaju was among the juvenile meerkats and she and her little gang abandoned Mitch. Alone, Mitch would have certainly died from predation or dehydration. Fortunately, Shakespeare was among the adults who returned early after the days forage and carried Mitch back to the safety and security of the babysitting burrow. Yossarian then forced a burrow move and carried one of Mozart's pups above ground. At first, Shakespeare carried the tiny pup back underground, but Yossarian forced another den move which resulted in the death of one of Mozart's pups, VWF077. After the pups all left to forage with the group, Mozart's pup VWM079 and Baddiel's pup VWM082 disappeared.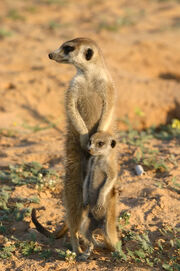 On November 23, 2004 while the Whiskers group was foraging they came across a bolt hole claimed by a puff adder snake. The group began to mob the predator. Shakespeare was among the members in front and the snake struck at him, bit him on the side of the face and on his leg theigh. As the group moved on, the Puff Adder venom made it hard for Shakespeare to forage. He stayed at the burrow for a few days till he recovered enough to forage again. After days since the attack Shakespeare made a full recovery. Flower gave birth to her seventh litter of pups on December 6, 2004 to Petra, Machu Pichu, Ningaloo and Popkat. The Whiskers split, and Shakespeare remained with Flower, Zaphod, Mitch, Pozzo, Mozart and two pups Machu Pichu and Ningaloo. While the rest of the family including Super Furry Animal, Yossarian, Petra and Popkat split from the group. Baddiel joined the splinter group and took dominant female position away from Super Furry Animal. Popkat disappeared on January 3, 2005 shortly after the group split. The two halves of the Whiskers then reunited. Both Baddiel and Flower were pregnant so Flower evicted Baddiel who disappeared on April 22, 2005. Flower gave birth to Flo, Kim and Finn. Shakepseare babysat the pups. The Lazuli attacked to burrow, Shakespeare was seen defending the pups. After the Whiskers chased the Lazuli away. Shakespeare disappeared after that. Shakespeare was about three years old when he sadly disappeared and was Last Seen on March 11, 2005.
Meerkat Manor
Shakespeare was feactured on Meerkat Manor. He was seen as the main hero of season one and became famouse on the very first episdoe. He saved Mitch after he got left behind by the teenagers and brought him back to the burrow. Then Shakespeare was bitten by a snake on the neck and leg. He managed to get home and survived the first day. Shakespeare often spotted danger while on guard but for part of the show, he was recovering from his snake bit and was unable to take part in many events like; fight the Lazuli and Gattaca or save Mozart's pup who was left behind by Yossarain after a failed burrow move. He also was unable to hlep Daisy(Super Furry Animil) move her pups to the new burrow. He finally recovered and on the second to last episode Shakespeare was seen babysitting the news pups Parshy(Flo), Basil(Kim), Rose(Finn) and Colombus(Kim). Shakespheare also played a female meerkat named Sophie babysitting the same pups during that episode. Shakespeare put himself in-between the pups and dominant male Big Si(Basil). When the Whiskers returned and chased away the Lazuli, Shakespeare had disappeared but all the pups survived. Micth took over the roll as the Whiskers "Hero" after Shakespeare. His picture of him and Mitch is the front cover of the first season of Meerkat Manor DVD.
Family
Mother:
Flower
Father: Zaphod
Sister: Mozart
Nieces: Tina Sparkle, Ju Drop and Miss Lilly The Pink
Nephews: Spud, Wollow and Karim
Gallery
Links