Sex Panther
(VKUM054)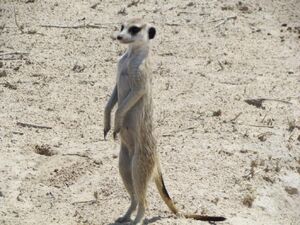 was born in April 2011 in the
Kung Fu Mob
. His mother was either
Slyder
or
Pilko
and his father was an unknown roving male. Sex Panther was born into a mixed litter of six. His five litter-mates were 
Ron Burgundy
(VKUM053), 
Tits McGee
(VKUF055), VKUP056, 
Luka
(VKUM057) and
Gypsy
(VKUF058). His mother was a subordinante female however the mix litter survived. Sadly VKUP056 was predated a month after birth. Sex Panther and the rest of his litter survived to their first year. His brother Ron Burgundy was even fitted with the Kung Fu's radio collar. Pilko and Slyder both had sadly died by this time. Sex Panther went roving for the first time in November 2012. That same month his grandfather and dominant male of the group
Ningaloo
disappeared and was belived to have died. Most of the adult males had taken to roving allowing some
Rascals
males to join the Kung Fu. The new males kicked out the last remaining Kung Fu males including Sex Panther and his brother Ron Burgundy. In Decemeber 2012, Sex Panther and his brother Ron Burgundy were Last Seen.
Links
Ad blocker interference detected!
Wikia is a free-to-use site that makes money from advertising. We have a modified experience for viewers using ad blockers

Wikia is not accessible if you've made further modifications. Remove the custom ad blocker rule(s) and the page will load as expected.