Rusty
(VCDM006)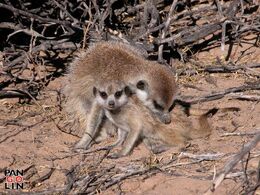 was born on June 15, 2005 in the
Commandos
. His mother was
Kleintjie
 and his father was
Aragorn
. Mo was born with three litter-mates including two brothers named
Mo
(VCDM005) and 
Drew
(VCDM007) and a sister named
Phoebe
(VCDF008). The pups suvived their first few weeks and started foraging with the adults. The Commandos were a young mob but they were fast growing. Sadly Rusty was the first of his litter to go. He was predated on September 6, 2005. Phoebe was then predated in October 2005. The remaining two brothers, Drew and Mo, disappeared in mid-2006 and mid-2007.
Links
Ad blocker interference detected!
Wikia is a free-to-use site that makes money from advertising. We have a modified experience for viewers using ad blockers

Wikia is not accessible if you've made further modifications. Remove the custom ad blocker rule(s) and the page will load as expected.