Rum
(VLF142)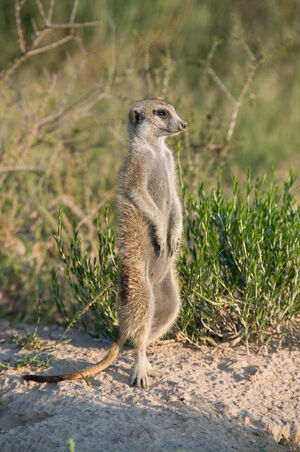 was born into the
Lazuli Mob
in August 25, 2008. Her mother was either the dominant female 
Young
or a subordinante female named
Caroline
. Her father was one unknow rover. Rum had three litter-mates, her litter-mates were her one brother named
Eigg
(VLM141) and her two sisters named
Muck
(VLF143) and
Hen
(VLF144 ). A month before Rum was born five
Whiskers
 named 
Machu Pichu
,
Wollow
,
Axel
,
Rufus
, and
Rhogan Josh
 joined the Lazuli. Machu Pichu took male dominance but he was recovering from and snake bit. So his nephew Wollow, who was at least two years younger than him, ousted him from the dominant male position. A month later Machu Pichu and Rhogan Josh later left the Lazuli and formed he
PK Mob
with
Beebop
. The Lazuli were low in numbers and losing two adult males could have proven dangerous for the young pups, however Rum and her litter-mates survived. In July 2009 Caroline was evicted and disappeared. Rum and her siblings survived to adulthood. By then Rum was one of the oldest subordinate females under Young, only two of Young's daughters named
Calvinia
 and
Christiana
 were older. Axel left the group with two Lazuli males in October making Rum's brother Eigg one of the oldest subordinate males. Rum became one of the main babysitter in the Lazuli, she was often seen with the pups. In February 2010 both Young and Hen gave birth to a mix litter, Rum was one fo the first to be seen babysitting. That same month Wollow was bitten by a snake and Rufus took dominance from him. As one of the oldest females, Rum started to be evicted more and more by her mother, but unlike her sisters, Rum stayed away from rovers and never got pregnant. Sadly in November 2010 Rum died.
Family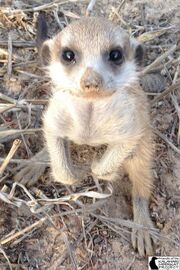 Mother:
Young
or
Caroline
Father: Machu Pichu or Wollow or Rhogan Josh or Axel or Rufus
Brother: Eigg
Links
Ad blocker interference detected!
Wikia is a free-to-use site that makes money from advertising. We have a modified experience for viewers using ad blockers

Wikia is not accessible if you've made further modifications. Remove the custom ad blocker rule(s) and the page will load as expected.