Rocksteady
(VEM125)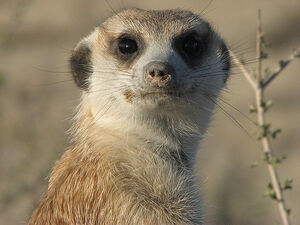 was born in the
Elveera Mob
on January 3, 2007. His mother was
Lambert and
his father was an unknown rover. Rocksteady was born with just one His litter-mate sister named
Beebop
( VEF124 ). The dominant female
Jo Jo Hello
 had no pups of her own at the time and allowed Lambert to keep her two pups. Rocksteady and Beebop survived their first few months however their mother Lambert was evicted by Jo Jo Hello in October with two other females and disappeared. Rocksteady and Beebop reach adulthood. As a full grown meerkat, Rocksteady started to help out the Elveera with sentry duties while his sister spent more time babysitting and caring for the pups. Rocksteady became one of the biggest males in the Elveera. Like all adult males, Rocksteady took an interest in finding a mate and started to rove with the other males. In July 2008 Beebop was Last Seen but later seen in October in the short-lived mob called the
PK
. Rocksteady remained in the Elveera and became one of the oldest males. In early 2009 the group started to show signs of disease. On Janaury 29, 2009 Rocksteady was one of the first meerkats to be euthanised. The Elveera would soon be lost to tuberculosis a half a year later.
Family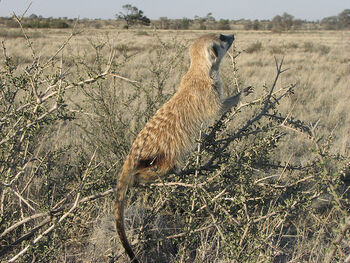 Mother:
Lambert
Father: Habusu
Sister: Beebop
Grandmothers: Eleusine and Asterix
Grandfathers: Dante and Alexander
Great Grandmothers: Tenuvial and Vivian
Great Grandfathers: Silks and Stinker
Links
Ad blocker interference detected!
Wikia is a free-to-use site that makes money from advertising. We have a modified experience for viewers using ad blockers

Wikia is not accessible if you've made further modifications. Remove the custom ad blocker rule(s) and the page will load as expected.