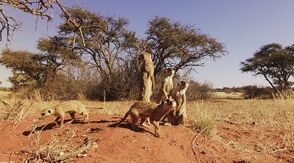 The
Rockstars Mob
is a group of wild
meerkats
living in the Tswalu Reserve in the Kalahari Desert in southern Africa. The Rockstars Mob is habituated, but there are no records as to how many members are in the mob, nor if a hierarchy has been established. The group is rivals with two meerkat groups featured in the 2012 documentary
Kalahari Meerkats
. The Rockstars appeared in one episode after a male named
Brutus Gosa
attempted to attract a female. However the Rockstar males quickly chased him off.
Dominant Pair
It is unknown as to who the dominant pair of the Rockstars Mob is. When they appeared in Kalahari Meerkats, the dominant female was present but the dominant male was absent, suggesting that there may not be an established dominant male.
All Known Members
It is not known how many members are in the Rockstars Mob. However, the Rockstars Mob have defeated the Jaco's Dune mob, suggesting that they may have more members than Jaco's Dune (over 15).
Links
Ad blocker interference detected!
Wikia is a free-to-use site that makes money from advertising. We have a modified experience for viewers using ad blockers

Wikia is not accessible if you've made further modifications. Remove the custom ad blocker rule(s) and the page will load as expected.