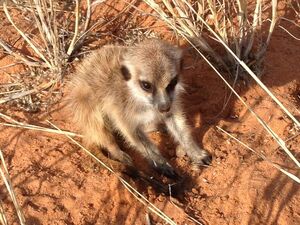 Robin(VJXM076) was born into the JaXX to subordinate female Cloudbreak on June 15, 2014. The father of the pups remained unknown. His litter-mates consist of three brothers: Chewbacca(VJXM077), Quirkie(VJXM0078) and Poletje(VJXM079). Unfortunately, in August 2014, Robin, along with his litter-mate Quirkie, went missing. The two were later declared Last Seen when they failed to return.
Trivia
VJXM076 Robin's name was chosen by our FKMP facebook community. Suggested by our facebook follower Shaz Alderton, "Robin" won the vote, out of more than 100 names entered. Robin is named in honour of American actor and comedian Robin Williams, who tragically died only recently (born 21-Jul-1951, died 11-Aug-2014).
Links
Ad blocker interference detected!
Wikia is a free-to-use site that makes money from advertising. We have a modified experience for viewers using ad blockers

Wikia is not accessible if you've made further modifications. Remove the custom ad blocker rule(s) and the page will load as expected.