Ren(VWM112) was born on November 20, 2006, into the Whiskers. His mother was Flower, the dominant female, and his father was Zaphod, the dominant male. Ren had one litter-mate brother named Stumpy(VWM113), who had been born with a deformed leg. They were Flower's thirteenth and last litter. Ren and Stumpy began to forage with the adults in early December 2006. On the 3rd of December, the Whiskers split into two groups. Ren and his brother Stumpy ended up in the larger half, led by Rocket Dog, Zarathustra, and Pozzo. Ren and his brother were looked after by Finn and Bananas, but Ren received more attention than his weaker brother; in spite of this, neither survived for long. Both Ren and Stumpy were Last Seen on December 19, 2006.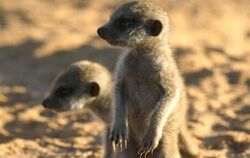 Meerkat Manor
Ren played as a pup named Len on Meerkat Manor, while Stumpy played as his brother Squiggy. In some versions of the show he and his brother were called by their real names. Len was only seen in the episode "The Tale of Len/Ren and Squiggy/Stumpy", being looked after by Daisy(Finn), Mitch(Zarathustra, Pozzo), and Sparkle(Bananas). While the group was out foraging they were alarmed by a bird of prey. When the group fled for cover Len and Squiggy were left behind, out in the open. The hawk killed Len, leaving behind Squiggy, the weaker of the two.
Links
Ad blocker interference detected!
Wikia is a free-to-use site that makes money from advertising. We have a modified experience for viewers using ad blockers

Wikia is not accessible if you've made further modifications. Remove the custom ad blocker rule(s) and the page will load as expected.