Punk Zappa

Mob

Dominant

Formerly of the Zappa

Date of Birth

March 3, 2005

Date of Death

August 1, 2008

Cause of Death

Predated

Parents

Litter-Mates

Mate

Children

Known For

Taking dominance from her sister Lola

Punk(VZZF044) was born in the Zappa on March 3, 2005. Her mother was Megan and her father was an unknown rover. Her littermates were Lola, Pimms and Skol. All the pups survived to adulthood. In July 2006, Punk's littermate brother Skol went roving and never came back. He was Last Seen on July 1, 2006. Her other brother Pimms also went roving in November 2006 and was Last Seen on Noverber 11, 2006. Out of the litter, only Punk and her littermate sister Lola remained in the Zappa mob. Then, death started to hit the Zappa. First, their dominant male Mack (Punk's grandfather) died of disease. Then, a Young Ones male name Glufs immigrated into the group along with two other Young Ones males who subsequently died of tuberculosis. He took Mack's place as the Zappa dominant male. The next to go was group dominant female Bettik, who died shortly after she gave birth to her last litter, fathered by Glufs. Lola took dominance and gave birth to a litter of pups. Gluf disappeared soon after. Lola remained dominant to Punk for several months. Then, in 2007, Lola was bitten by a puff adder and  disappeared. Punk took over as the dominate female in her absence. When Lola rejoined the Zappa, Punk quickly asserted her dominance over her and Lola willingly submitted. Punk assumed dominance beside Dougal, her uncle. Then a wild male name Withnail immigrated into the group and took dominance next to Punk. With a breeding male at her side, Punk began to evict the subordinate females, including former dominant female Lola, though she was was Last Seen November 1, 2007 for causes unrelated to eviction. Punk gave birth to one litter of three pups on December 2, 2007. Her pups were Gimli, Eowyn, and VZZP063. Sadly, her pup VZZP063 died December 20, 2007. Punk attempted to have more litters following this, but aborted them due to the harsh drought. She continued to lead the Zappa for a whole year until she was taken by a predator on August 1, 2008, shortly before the Zappa group was lost. Punk's successor was her niece Milla, who took dominance after her.
Meekat Manor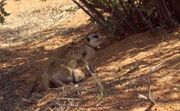 Punk played a meerkat named Punk on Meerkat Manor season three. She was seen as Lola's sister who took over dominance when Lola was away. When she returned Punk overthrew her and took dominance. Frank(Glufs), Lola's mate, then was overthrown by Houdini(Dougal), his brother. Punk and Houdini led many raids on the Whiskers after that.
Family
Mother: Megan
Father: Unknown Male- rover
Sister: Lola
Mate: Withnail
Children: Gimli, Eowyn Zappa and VZZP063
Links
Ad blocker interference detected!
Wikia is a free-to-use site that makes money from advertising. We have a modified experience for viewers using ad blockers

Wikia is not accessible if you've made further modifications. Remove the custom ad blocker rule(s) and the page will load as expected.