Poppet

Date of Birth

September - October 2009 Appeared with Anna Rasa in October

Date of Death

November 2010

Death Cause

Predated by a Tawny Eagle

Offspring

Four pups. Only two intitially survived and they were adopted into a wild group.

Known For

Coming to kalahari Trails as a pup and being rasied and rearing her own pups without any male helpers and for surviving on her own.
Poppet was a female meerkat raised by Kalahari Trails after being rescued from an Upington suburb in October 2009.
Poppet's Story
Poppet was approximately five weeks old when she arrived at Kalahari Trails. She was a favourite with visiting tourists as she was very friendly and joined them on walks. In late December, she met Fizzle, a re-visiting male meerkat raised from the previous year. When Fizzle left on New Years Day, in search of his mate, Poppet tagged along. Poppet reappeared five days later in terrible condition (broken leg and severe bite marks) after a predicted encounter with wild meerkats. She was nursed back to full health and started spending her time around a nearby burrow, which was occupied by Ground Squirrels and a Yellow Mongoose family.
In late August, she started showing signs of pregnancy. On October the 9th she disappeared into her burrow and didn't emergy again until October 14th. Her instincts to protect her young took over, as she started warying off warring off visitors and even bit her care-taker, Anne Rasa. Poppet seldom left the den, with the exception to find a quick snack. Three weeks later, her four pups emerged from the burrow. Sadly, two of the pups were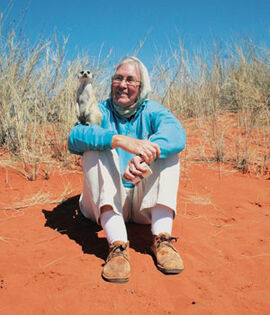 killed and eaten by a male Yellow Mongoose, and a third viciously bitten. When a Puff Adder made a visit, Poppet moved the surviving pair to a new burrow five hundred meters away.
Three days later, the pups returned to the burrow alone and hungry. Tawny Eagles were repeatedly occupying the other den, which led to the assumption that Poppet had sadly been predatored.
The two-month old pups were raised by Anne Rasa, until Christmas Day, when a wild group visited Poppet's burrow. Rather than killing the babies, as most rival gangs would do, the meerkat group adopted the two pups. Poppet's youngsters safely returned to the wild with their new family, where they belong.
Links
Ad blocker interference detected!
Wikia is a free-to-use site that makes money from advertising. We have a modified experience for viewers using ad blockers

Wikia is not accessible if you've made further modifications. Remove the custom ad blocker rule(s) and the page will load as expected.