Pitio
(VWM139)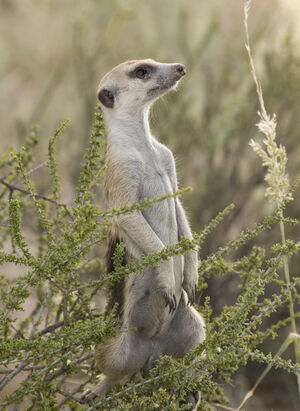 was born on January 4, 2009 in the
Whiskers
. His mother was Ella and his father was Thundercat. Pitio had three other brothers
Marxx
(VWM136), VWM137 and
Mimaji
(VWM138). All four pups survive their first weeks and began to go foraging with the the group. In April 2009, VWM137 disapeared and was assume predated. Strangly in December 2009, Pitio roved once with his older brother
Gump
to the Toyota group before he was a year old. Pitio, Marxxs and Mimaji made it to their first birthday. They started helping out around the mob by babysitting and keeping sentry. Pitio started to spend more time roving. Most of the eldest males had left the group making Pitio and his brothers some of the oldest males in the group. By the time he was two years old he was one of the Whiskers' biggest rover. He roved at the Toyota, Kung Fu and Sequioa mostly and sometimes was seen at the JaXX and Lazuli. It is unknown if he fathered any pups. His brother Marxx was evicted for some unknown reason but made it back into the group. In 2011 Thundercat started to rove with Pitio after Ella lost dominance. In December Mimaji was died after he was hit by a car on the main road. Pitio stayed in the Whiskers for another year, often roving with his father and brothers. In July 2012, Pito left the Whiskers for good along with his with his older brothers Rozza and Gump.
The three males joined the nearby Überkatz Mob. As the youngest male, Pito had little chance of taking dominance. Rozza and Gump were the same age. So it would most likely be one of them who would take dominance beside the dominant female Tina. It was Gump who took dominance. Pitio didn't stay in the group very long and soon took an intrest in roving again. Within the same month, Pitio left by himself.
Hooligans
Edit
Pito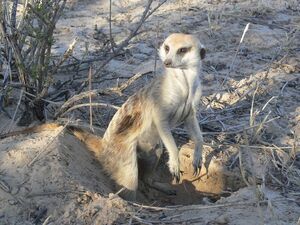 soon came across a trio of meerkats known as the
Hooligans
. The mob was made up of two females and a young male. The dominant fenale was
Nik Nak
. However he was no try to take over dominance right away. In early August, Pito rejoined Überkatz for a couple of days then he soon returned to the Hooligans and established dominance while Fat Jesus was way roving. Nik Nak was confirmed to be pregnent soon after, however she had been seen mating with two
Baobab
males the month before. She aborted soon after however. Pitio didn't seem interested in staying in the mob and spend a lot of time away from the group roving. In when roving in August and again in September. In October Fat Jesus went roving and soon Pitio went roving again.
Some days after Pitio himself went roving again and join the Überkatz. Pitio was forced to take a subordinate role under his older brother Gump. Pitio started to rove again but remained in the group. He spent the majority of the next two years living in the Uberkatz as a subordinate male and frequently roved at nearby groups. That suddenly changed in July 2014. Pitio overthrew Gump to become the group's new dominant male, despite having little to gain. Tina had died by then and her daughter m Frosting had taken dominace in her place. Frosting was also Piitio's niece, meaning that it was unlikely that they world ever breed. Pitio is still living in the Überkatz today.