Pancho
(VGGM011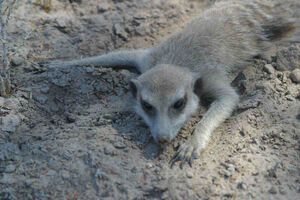 ) was born in the
Gattaca Mob
on November 14, 2002. His mother was
Risca
and her father was not
Izit
or
Stinker
. His father was
Balrog
male named
Mojadji
, who was seen mating with Risca a few months before Pancho wa sborn. Pancho had just one litter-mate sister named
Gringo
(VGGM010). Both pups survived their first few weeks and started foraging with the adults. Since Pancho was the son of the dominant female, even if his father was not the dominant male, he and his sister enjoyed the easy life as pups. Soon however they reach three months od age and were expected to care for themselves. The Gattaca was a small mob with few pups and adult but Pancho and his sister survived. Sadly Pancho died Novermber 9, 2003, a few days before his first birthday.
Family
Mother: Risca
Father: Mojadji
Sister: Gringo
Grandmothers: Brambles and Luella
Grandfathers: Argon and Balrog
Links
Ad blocker interference detected!
Wikia is a free-to-use site that makes money from advertising. We have a modified experience for viewers using ad blockers

Wikia is not accessible if you've made further modifications. Remove the custom ad blocker rule(s) and the page will load as expected.