Lazuli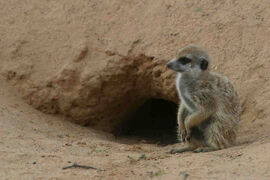 Padloper(VLM090) was born in the Lazuli Mob on December 5, 2003. His mother was dominant female Cazanna and his father was dominant male Basil. His litter-mates were his two sisters Pelomedusa(VLF091) and Pancake(VLF092). They survived to adullhood. Padloper babysat and took sentry duties. His sisters were evicted from the Lazuli a few times. Cazanna began to evicte the oldest female. Pelomedusa disappeared on Janruary 14, 2004. Pancake disappeared next. After his father died on July 3, 2005, JD took over as dominant but he left the group. Padloper took over as dominant male. He stayed dominant male even after his mother died on December 18, 2006. Aretha took over as dominant female. Stayed dominant male for a year. He died of TB on August 3, 2007. J. Alfred Prufrock took over as dominant male after him.
Family
Mother: Cazanna
Father: Basil
Sister: Pelomedusa and Pancake
Links
Ad blocker interference detected!
Wikia is a free-to-use site that makes money from advertising. We have a modified experience for viewers using ad blockers

Wikia is not accessible if you've made further modifications. Remove the custom ad blocker rule(s) and the page will load as expected.