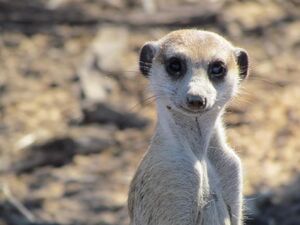 One Eyed Wilma(VLF160) was born into the Lazuli on September 24, 2009. Her mother was Calvinia, and her father was an unknown rover. Her litter-mates were her three sisters O'Toolie(VLF161), Shallot(VLF162), and Sossusvlei(VLF163). A few days before One Eyed Wilma was born, her grandmother Young had given birth to Brea, Griene Tsiis, and Grutte Pier. The Lazuli were a large mob, so there were many helpers to care for the pups. Young allowed the subordinate litter to remain in the group. Soon the pups started foraging. One Eyed Wilma and her litter survived to adulthood. Calivia was evicted and disappeared from the group, and Young started to evict One Eyed Wilma whenever she was pregnant. In October 2010, Sossuvlei disappeared along with another female named Sammy Jo. In early 2012, One Eyed Wilma became pregnant along with Shallot and Mayer. All three females gave birth to a mixed litter of three pups: Bandersnatch, JubJub Bird, and TumTumTree in March 2012. The three pups survived; however, a drought was going on, and few pups were born after. One Eyed Wilma stayed in the group and didn't become pregnant again, although she was often evicted. In February, Young died and One Eye Wilma competed for dominance. She was ousted by Christiana, her aunt, and was evicted soon after along with Morgana and TumTumTree. One Eyed Wilma was Last Seen in February 2013.
Links
Ad blocker interference detected!
Wikia is a free-to-use site that makes money from advertising. We have a modified experience for viewers using ad blockers

Wikia is not accessible if you've made further modifications. Remove the custom ad blocker rule(s) and the page will load as expected.