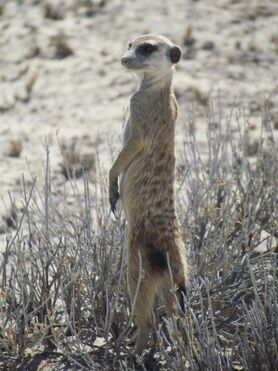 Nozza
(VJXM029) was born on August 18, 2010 in the
JaXX Mob
. His mother was
Diana
, the dominant female of the JaXX however his father was an unknown rover from another group. Nozza was born in a litter of four with three litter-mates brothers
Egbert
(VJXM027), VJXM028 and
Franipoo
(VJXM030). The four brothers survived their first four weeks and started foraging with the adults. The JaXX numbered tweny-one members and were made up of mostly young meerkats. In October VJXM028 was predated and then Franipoo was predated in March 2011. In June 2011, Nozza went roving for the first time at the age of ten months with his brother Egbert and the oldermales.  In August 2011, his mother Diana gave birth to a new litter, Nozza was barely a year old so he babysat for the first time. In December 2011  Nozza and Egbert went roving for the second time. Diana gave birth to another litter so the brothers stayed at home to help out with the new pups. In March 2012 Nozza went roving only with his brother Egbert. In June Nozza went roving without Egbert, but his brothers
Lebowski
 and
Space Raoull Esq.
. From July to October Nozza went roving with the other JaXX males. Sadly, in November 2012 Nozza was considered Last Seen when he did not appear at the end of the month.
Links
Ad blocker interference detected!
Wikia is a free-to-use site that makes money from advertising. We have a modified experience for viewers using ad blockers

Wikia is not accessible if you've made further modifications. Remove the custom ad blocker rule(s) and the page will load as expected.