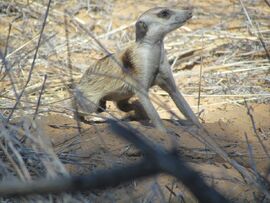 Not-A-Llama
(VVHM051) was born in April 2011 into the 
Van Helsing Mob
. His mother was the dominant female, 
Billy Whiskers
, and his father was the dominant male, 
Titan Van Helsing
. His litter-mates were VVHP050 and
Magical Trevor
(VVHM049). Sadly, VVHP050 was predated in September, 2011. Later that year, in October, Not-A-Llama's brother, Magical Trevor, was also predated. Not-A-Llama was the only member of the litter who survived to adulthood. In October, 2012, Not-A-Llama went roving for the first time in a large group of Van helsing males. Then in December, Not-A-Llama went roving again. This time, his father, Titan, joined the rovers. A young pup, VVHP061, also went with the roving group and was sadly predated. In December 2013 Not-A-Llama was considered Last Seen. 
Links