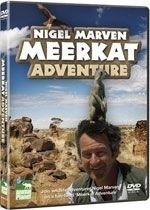 Nigel Marven Meerkat Adventure
is a 2003 documentary about wildlife adventurer Nigel Marven and his days spent with different meerkat families across southern Africa. The documentary runs for 60 minutes and was released on DVD in 2008. 
Summary
Nigel Marven Meerkat Adventure shows a day into the life of a Kalahari Meerkat Project volunteer and a full introduction to members of the mobs. We meet Greedy(Grumpy), the dominant female of the Moomins gang and Eleusine and Dante, the dominant coupleof the Elveera. Tim Clutton-Brock, the founder of the Project, is also featured in the documentary explaining the digging habits of the meerkats. Nigel also visits the Makadagadi to meet a habituated mob led by a female named Charlie. On his trip he's accompanied by meerkat habituator Wendy Wilson and witnesses pups emerging for the first time. Nigel also travels further south to meet Grant McIlrath at the Meerkat Magic Project, where the pair get a glimpse of wild Klein Karoo meerkats.
Gallery
Links
Ad blocker interference detected!
Wikia is a free-to-use site that makes money from advertising. We have a modified experience for viewers using ad blockers

Wikia is not accessible if you've made further modifications. Remove the custom ad blocker rule(s) and the page will load as expected.