Navi
(VAZM025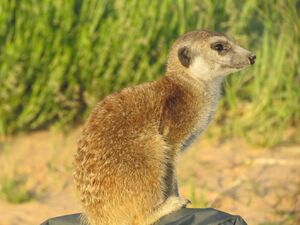 ) was born in-bewteen March 6-9, 2010 in the
Aztecs Mob
. His mother was
Monkulus
and his father was an unknown rover. He was born in a large litter of six, his litter-mates were his four brothers named
Mr. Cat
(VAZM022),
Mr. Ellie
(VAZM023),
General Big Daddy
(VAZM024) and
Jam
(VAZM026) and one sister named
Zelda
(VAZF027). All six pups survived to adulthood. Navi started to help out around the mob by babysitting and taking sentry post. Like all adult males, Navi soon started to take an interest in roving. In June 2011 Navi went roving for the first time along with his liter-mate brothers and older brothers. His sister Zelda was evicted in July and left the group to join the
Pandora Mob
along with an older sister named
Kathleen
. However both females soon returned to the Aztecs the following month. In September Navi went roving with Mr. Ellie and Jam along with some of the older males. In May 2012, Navi sadly died along with two other males named
Rednose
and
Bachi
of unknown causes. Rednose however was confirmed to have died of disease, Navi may have been infected as well.
Links
Ad blocker interference detected!
Wikia is a free-to-use site that makes money from advertising. We have a modified experience for viewers using ad blockers

Wikia is not accessible if you've made further modifications. Remove the custom ad blocker rule(s) and the page will load as expected.