Napoleon
was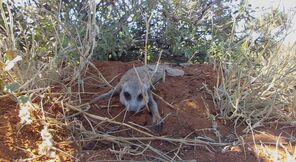 First Seen in the
Gosa Mob
as a suborinate adult male. He was said to be an incredibly lazy male. In April 2012, Napoleon went roving along with another Gosa male named
Brutus
. Napoleon was submissive and had allied with a subordinate female named
Delilah
, along with two other Gosa males. When the Gosa were separated following the death of Cleopatra's pups and later Delilah's pups, Napoleon joined Delilah's group. However, her mob rejoined the rest of the Gosa on both occasions. In July 2012, the dominant male
Gandalf
, one of Napoleon's possible relatives, disappared. As Napoleon was lazy, he didn't bother to take dominance nor did any of the older males, leaving the position to a young adult named
Starsky
. Then later in August a wild male named
Malaki
 joined the group and became the new dominant male. In September 2012 the Gosa disappared with
Cleopatra
very pregnant. The group was relocated the next month with four pups. Sadly one of the pups was killed by a monitor lizard. Later that year, Malaki died of a puff adder bite, leaving Brutus as the dominant male. In January 2013 Cleo gave birth to a litter of five pups, but two were lost during a group split the following month. Luckily, the other splintered meerkats reunited. In May 2013 Gandalf returned to the Gosa. He, Brutus and Hutch all competed for dominance. Napoleon did not join in on the brawl. By June 2013, Gandalf had re-established himself as the dominant male. Napoleon is still alive and living in the Gosa today.
Links
Ad blocker interference detected!
Wikia is a free-to-use site that makes money from advertising. We have a modified experience for viewers using ad blockers

Wikia is not accessible if you've made further modifications. Remove the custom ad blocker rule(s) and the page will load as expected.