Moomintroll
(VMMM001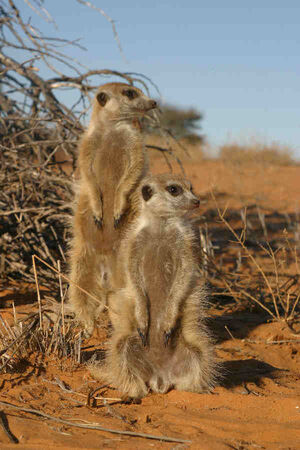 ) was born in the
Moomins Mob
on December 2, 2002. His mother was
Sleepy
and his father was probably
Cassia
. His litter-mates were she sister,
Little My
(VMMF006) and Fillyjonks(VMMF002) and two brothers named Snufkin(VMMM003) and Sniff(VMM004) and a pup VMMP005 who was sadly predated. They were the first litter ever born in the Moomins however his mother and father were not the dominant pair of the group. His aunt
Grumpy
was the dominant female with his uncle
Burgan
as the dominant male of the Moomins. His sister Filltjonks was predated as a juvinel. Despite the fact that was Moomins were a small mob, four of the six pups survived to adulthood. Grumpy gave birth to her own litters and evicted Sleepy a lot till she left the group and joined the
Elveera
briefly. As an adult meerkat, Moomintroll helped out with the pups and went roving a lot with his brothers and cousins. His father Cassia later left the group and disappeared. Moomitroll stayed in the group for around three years till he and his brother Snufkin left the group in February 2005 and joined a wild one near the Moomins. Moomintroll became the dominant male and was later seen again still as the dominant male of the wild group in December. Momintroll was Last Seen on December 25, 2005.
Links
Ad blocker interference detected!
Wikia is a free-to-use site that makes money from advertising. We have a modified experience for viewers using ad blockers

Wikia is not accessible if you've made further modifications. Remove the custom ad blocker rule(s) and the page will load as expected.