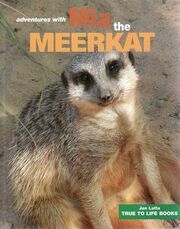 Adventures with Mia the Meerkat
is an educational book written by Jan Latta and published in Australia by
True to Life Books
in 2009.
Summary
This book features exclusive photos of Taronga Zoo's famous meerkat twins, Zanzibar and Nairobi, and the rest of their family, including their mother "Mia" (whose real name is Malawi). Readers learn about the life of wild meerkats whilst getting a close glimpse of the famous captive pups' world.
Links
Ad blocker interference detected!
Wikia is a free-to-use site that makes money from advertising. We have a modified experience for viewers using ad blockers

Wikia is not accessible if you've made further modifications. Remove the custom ad blocker rule(s) and the page will load as expected.