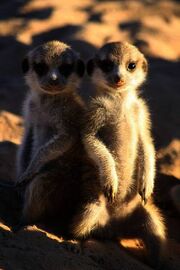 Natural World: Meerkats - Secrets of an Animal Superstar
is a 60 minute BBC Two documentary on
meerkats
and the work of the
Kalahari Meerkat Project
in South Africa. It first aired in the UK on the 11th of October 2013, but so far no date for other countries has been released. The documentary is narrated by David Attenborough.
Summary
We meet the Kung Fu Mob lead by Kleintjie and team members of the long-running study referred to as the Kalahari Meerkat Project. The group is experiencing the worst drought in a decade. In order to successfully raise her pups, Squirt and Weeny, Kleintjie and her family must work hard to pull them through the difficult times. While the meerkats do all they can to feed the pups, chase off rivals and find mates, members of the Kalahari Meerkat Project undertake many experiments to demonstrate some of the meerkats natural instincts and behaviours. Tim Clutton-Brock, the founder of the project, also explains why he chose meerkats as the subjects of his study and how he and his team managed to gather information on the meerkats.
Meerkats
A list of the meerkats featured in the documentary:
Gallery
Links
Ad blocker interference detected!
Wikia is a free-to-use site that makes money from advertising. We have a modified experience for viewers using ad blockers

Wikia is not accessible if you've made further modifications. Remove the custom ad blocker rule(s) and the page will load as expected.