Van Helsing
Manson
(VVHM019)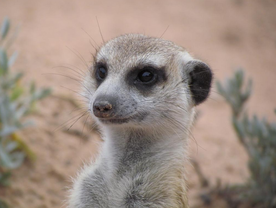 was born on February 14, 2009 in the
Van Helsing
mob. His mother was a subordinate female 
Billy
 and his father was an unknown male. Manson had a single litter-mate, a brother named 
Krueger
(VVHM020). The pair both survived the first critical weeks of life. Manson and his brother stayed with the family and eventually reached adulthood. Manson did not go roving until December, 2010. He went in the company of an experienced male 
Mr. Jacky
. Manson did not rove again until February 2011. His brother Krueger took to roving in May, 2011. The next month, Manson and Krueger went roving with three other Van Helsing males. The rovers encountered three evicted Aztec females.
Pandora
The rovers joined up with the females and formed a new group called Pandora. One of the females named Snowflake took female dominance while male dominance remained unestablished for months. Eventually, Manson's relative Pepper became the dominant male. Manson and the rest of the boys continued roving, but always returned to the Pandora. In October 2011, Manson's brother Krueger and his young cousin named Jizzle left the Pandora and were Last Seen. Following this, Manson and the other subordinate male Cecil took on valuable roles as primary pup-carers. While Cecil became the group's main babysitter, Manson was often seen bringing food to pups. However, both of them went on roving trips together frequently with the dominant male Pepper occasionally joining them. In spite of their efforts, the group struggled to raise the litters due to low numbers, and many were lost to predators. Luck change for the Pandora when Snowflake's sister Toblerone overthrew her sister and took up dominance. She gave birth to a suggestful litter. Sadly in August 2012 Manson was Last Seen.
Links
Ad blocker interference detected!
Wikia is a free-to-use site that makes money from advertising. We have a modified experience for viewers using ad blockers

Wikia is not accessible if you've made further modifications. Remove the custom ad blocker rule(s) and the page will load as expected.