Mabili Drie Doring

Mob(s)

Dominant

Formerly of the Drie Doring

Date of Birth

November 15, 1993

Date of Death

January 19, 2006

Cause of Death

Last Seen

Parents

VDF001 and VDM001

Litter-Mate(s)

Two brothers and one sister

Mate(s)

Children

Known For

Longest lifespan of a female meerkat.

Also Known As

Longest dominant reign for a female Meerkat
Drie Doring
Mabili(VDF005) was born in the Drie Doring Mob on the 15th of November, 1993. Her mother was a wild female who may have been, the dominant female, and her father may have been the dominant male. Since the Drie Doring were one of the first wild meerkat mobs to be habituated, not much was known about Mabili's puphood. She is believed to have been born into a litter of four, with two brothers and a sister. Mabili survived to adulthood and her possible mother gave birth to three pups, they were Arah(VDM007), Keros(VDM009) and VDM008, on the 4th of September, 1994. As being one year old, he could babysit the pups however only Keros and Arah survived to adulthood.  In October, 1995, Arah and Keros both left the group and formed the Young Ones. That same year, Mabili became the dominant female of the Drie Doring, following the matriarch's death. A wild male joined the group and became her mate. In October, 1998, when Mabili gave birth to Athene(VDF036), Hector(VDM037), VDM038 and VDM039. The next year, in January, she gave birth to litter consisting of an unknown number of pups. One of those pups was Mack(VDM045). Later, in August, Mabili gave birth to Burgan(VDM049) and Cassia(VDM050). In November, 2001, Mabili's son Mack left the Drie Doring to create the Zappa with Elveera females. The next month, her sons, Burgan and Cassia, also left the group in and founded the Moomins with Lazuli females. Mabili concieved again and in December, 2003, gave birth to another litter, which included Makonkie(VDF089), VDP090, VDP091 and Cadw Mynd(VDM092). In September, 2004, another litter was born. This brood included a male named Gazebo, it is unknown if there were any others in the litter. Mabili gave birth to her last litter, which included Clarabella(VDF103), Piripicchio(VDM104) and Ciancica(VDM105) in Feburary 2005. Mabili was 11 years old when she had her last litter. Sadly on the 19th of January 2006, at the age of 12, Mabili was Last Seen. She was believed to have died of old age.
Legacy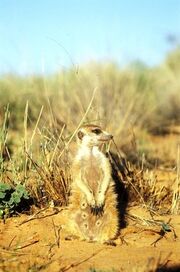 Mabili led the Drie Doring for over 10 years and had approximately 79 surviving offspring, the majority of which were unrecorded. Mabili was a successful mother and strong matriarch. She out-lived her mate, but she held onto her position. Mabili holds the record for longest life span of a female meerkat monitored by the
KMP
, second-eldest meerkat to be monitored of all time (falling not far behind
Zaphod Vivian
) and longest dominant meerkat reign ever known. Her daughter, Makonkie, became her successor, but sadly only led for 2 years. Makonkie's daughter,
Mist
, however, became the next dominant female in October 2008. She has been the gang's highly successful leader ever since and has shown the same qualities as her determined grandmother, Mabili.
Known Litters
First known litter born on October 9, 1998 fathered by unknown
Athene (VDF036) 
Hector (VDM037)
VDM038
VDM039
Second Known litter born on January 19, 1999 fathered by Unknown
Mack (VDM045)
Third Known litter born on August 16, 1999 fathered by Unknown
Burgan (VDM049)
Cassia (VDM051)
Fourth Known litter born on December 9, 2003 fathered by Unknown
Makonkie (VDF089)
VDF090
VDF091
Cadw Mynd VDM092)
Fifth Known litter born on September 29, 2004 fathered by Unknown
Gazebo (VDM102)
Sixth Known litter born on February 23, 2005 fathered by Unknown
Clarabella (VDF103)
Piripicchio (VDM104)
Ciancica (VDM105)
Famous Descendants
Children
Hector (VDM037) became a famous Drie Doring rover.
Burgan (VDM049) was the first dominant male of the Moomins.
Cassia (VDM050) was a Moomins founder and a big rover.
Makonkie (VDF089) was the dominant female after Mabili.
Cadw Mynd VDM092) was a founder and dominant male of the Nomads.
Gazebo (VDM102) was the dominant male of the Frisky.
Grandchildren
Mack (VDM045) was the first dominant male of the Zappa.
Finn MaCool (VDM108) was a dominant male of the Drie Doring.
Mist (VDF115) is the current dominant female of the Drie Doring.
Thor (VDM114) was the dominant male and had taken dominace from Finn MacCool until he dissapeared.
Falco (VDM125) was the dominant male of the Frisky.
Great Grandchildren
Captain Planet (VDM129) was the dominant male of the Drie Doring.
Sereina (VDF139) founded Furry Massive.
Lucifer (VDM152) was the only known meerkat born entirely ginger-coloured.
Patch (VDF162) was born with an odd dark patch over her face.
Links
Ad blocker interference detected!
Wikia is a free-to-use site that makes money from advertising. We have a modified experience for viewers using ad blockers

Wikia is not accessible if you've made further modifications. Remove the custom ad blocker rule(s) and the page will load as expected.