Lucky
(VWF066)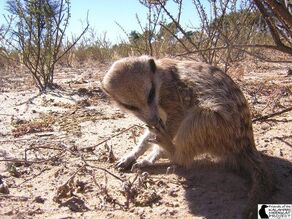 was born in the
Whiskers Mob
on February 22, 2004. Her mother was
Flower
, the dominant female, and her father was
Yossarian
, the dominant male. Her litter-mates were
Armanita Ditch
(VWF064),
Monkulus
(VWF063),
Pozzo
(VWM065) and
Zarathustra
(VWM067). Sadly, Lucky's life was short lived. In June 2004, at only four months old, Lucky broke her leg and was abandoned by the group. After she fell behind she was tragically predated. The rest of her littermates survived to adulthood.
Links
Ad blocker interference detected!
Wikia is a free-to-use site that makes money from advertising. We have a modified experience for viewers using ad blockers

Wikia is not accessible if you've made further modifications. Remove the custom ad blocker rule(s) and the page will load as expected.