Drie Doring
Loki Drie Doring

Mob

Dominant

No

Date of Birth

September 3, 2006

Date of Death

October 2008

Cause of Death

Disappeared

Parents

Litter-Mates

Known For

Mist and Thor's litter-Mates

Loki(VDM113) was born in the Drie Doring Mob on September 3, 2006. His mother was Makonkie and father was Osprey, the dominat couple at the time. He was born in a litter of 3 pups, his two litter-mates were Mist(VDF115) and Thor(VDM114). He and his siblings all survived to adulthood. They lived as a subordinates in the group. By next September, Mist and his mother Makonkie gave birth to four pups, one of the pups died. By October 2008, Loki left the group with Damian.They never came back. His father Osprey died and Finn MaCool took over as dominant male. By end of October 2008, his mother Makonkie died and his sister Mist took over as dominant female. Thor then overthrew Finn MacCool and took over as dominant male but in November 2008, Thor left the group to go roving and did not return to the group. Finn MacCool took over as dominant male beside Mist.
Family
Motgher:
Makonkie
.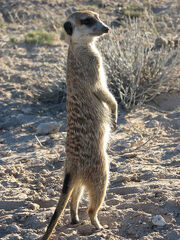 Father: Osprey.
Sister: Mist.
Brother: Thor.
Grandmothers: Mabili and Cazanna.
Gandfathers: a unknown male and Basil.
Links
Ad blocker interference detected!
Wikia is a free-to-use site that makes money from advertising. We have a modified experience for viewers using ad blockers

Wikia is not accessible if you've made further modifications. Remove the custom ad blocker rule(s) and the page will load as expected.