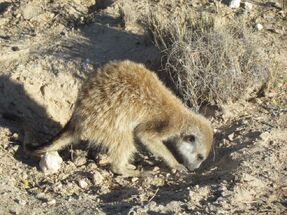 Liipshin
(VJXF039) was born on Febaury 7, 2011 into the
JaXX Mob
, her mother being dominant female 
Diana
 while her father was either 
Paymister
or
Superman
of the
Toyota Mob
. Liipshin was born with her two sisters named 
Fidget
(VJXF038) and
Hunky Doreen
(VJXM041) and three brothers named 
Space Raoull Esq.
(VJXM037),
Farquin
(VJXM040) and
Crumpet
(VJXM042). All seven pups survived their first three months. Sadly, in May sadly Liipshin's sister Hunky Doreen was predated. In the following month of June, Fidget disappared and was assumed predated. Liipshin and her three brothers survived through their first year, however Liipshin was evicted in November 2011 when she was only nine months old. At a year of age, Liipshin was mature enough to assist her mother in rearing new pups. Throughout her time in the JaXX Liipshin avoided rovers and never got pregnant. In spite of this she was still occasionally evicted from the group. In late 2013 she was evicted along with six other females. She failed to return to the group and in October 2013 was sadly Last Seen.
Links
Ad blocker interference detected!
Wikia is a free-to-use site that makes money from advertising. We have a modified experience for viewers using ad blockers

Wikia is not accessible if you've made further modifications. Remove the custom ad blocker rule(s) and the page will load as expected.