Lafienia
(VCDF049)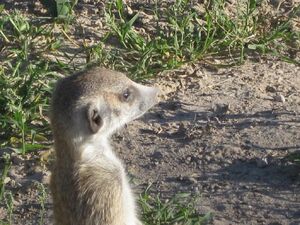 was born on October 24, 2008 in the
Commandos
. Her mother was
Zorilla
 and her father was most likely
Miles
, the dominant mate at the time. Her litter-mates were her three brothers
Stanley
(VCDM050),
Michiel
(VCDM051) and
De La Ray
(VCDM052). They were Zorilla's last litter evern. The pups survived their first few weeks and started foraging with the adults. The Commandos were a midium size mob at the time. When Lafienia was three months old, she lost her mother when she died of TB along with several other meerkats. Lafienia was too young to even compete for dominance, so her older half sister
Celidh
 became the new dominant female along with the last
Whisker
 male
Panthro
. Disease later killed Celihd and Panthro in mid 2009. Lafienia was still alive in June when all the adult females died, leaving her and her older sister
Punx
 as the last females in the Commandos. Being at eight months old, she most likely did not take dominance or if she had TB. Lafienia was considered Last Seen in June 2009.
Links
Ad blocker interference detected!
Wikia is a free-to-use site that makes money from advertising. We have a modified experience for viewers using ad blockers

Wikia is not accessible if you've made further modifications. Remove the custom ad blocker rule(s) and the page will load as expected.