Juno Whiskers

Mob(s)

Dominant

No

Date of Birth

January 25, 2008

Date of Death

January 2010 

Cause of Death

Last Seen

Parents

Litter-Mate(s)

None

Mate(s)

None

Children

None

Known For

Amira's son

Also Known As
Whiskers
Juno(VWM125) was born on January 25, 2008, in the Whiskers. Juno's mother was Amira and his father was Homestar Runner, who was from the Young Ones. Juno was a single pup; he had no siblings, but he was able to play with his older cousins Nugget and Beaker, mothered by the dominant female Rocket Dog. Before Juno was born, Rocket Dog had evicted most of the females to protect her unborn litter, but she didn't evict Amira. She lost her litter and Amira gave birth to Juno. Evicted female Ella then rejoined and gave birth to three pups: a female named Oriole and two males named Marico and Sabota. A snake moved into the birthing burrow, and Rocket Dog ordered a den move. She got bitten by the snake while the pups were being evacuated. In the chaos, Juno was accidentally left behind, but his mother Amira came back and saved him from a circling hawk. Shortly after, in April 2008, Rocket Dog died, and Ella became the new dominant female. Juno's mother disappeared on May 6, 2008, after the night the dominant male Machu Pichu was bitten by a snake. Amira was believed to be killed by the snake. Juno roved occasionally at the Kung Fu in 2009. He was seen roving along with Nugget, Sabota, Marico, and Savuka more frequently in late 2009. All of them disappeared a few months later. Juno was Last Seen in January 2010.
Meerkat Manor
Juno was featured late in the fourth season of Meerkat Manor. He was the single pup born to Rita(Amira). His father was Wilson(Homestar Runner). Rocket Dog had evicted all the pregnant subordinate females, excluding the youngest, Rita. Rita was said to be Rocket Dog's sister in the show, though she was really her niece. Rita was left to babysit Rocket Dog's second litter. When the Whiskers returned, they found that Rita had killed Rocket Dog's pups. The first-time mother largely ignored Juno, and so Rocket Dog took care of him. Evicted female Sophie(Ella) managed to get back in to the group, and she gave birth to three pups: Flashman(Marico), Chip(Sabota), and Pickle(Oriole). Although they were much younger than him, Juno often attempted to play-fight with the pups. During a burrow move, Juno was accidentally left behind. He was stalked by a bird of prey, until his mother came to his rescue. Juno was one of the members who stayed behind with Rocket Dog, who was on the verge of death from a snake bite, at the bolt hole. In spite of her condition, Rocket Dog managed to make her way to the main burrow. She survived the snake bite, unlike her mother Flower. Flashman, Chip, and Pickle then emerged for the first time.
Family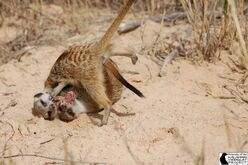 Mother: Amira
Father: Homestar Runner
Grandmothers: Asterix and probably Hawkeye, Petra, Flo, Finn, or Ella
Grandfathers: Alexander and possibly Drew
Great Grandmother: Flower
Great Grandfather: Zaphod
Links
Ad blocker interference detected!
Wikia is a free-to-use site that makes money from advertising. We have a modified experience for viewers using ad blockers

Wikia is not accessible if you've made further modifications. Remove the custom ad blocker rule(s) and the page will load as expected.