Van Helsing
Jizzle
(VVHM022)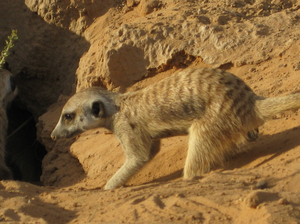 was born April 9, 2009 in the
Van Helsing
. His mother was
Flo and
his father was
Titan
. His litter-mates were
Dominique
(VVHF020) and VVHP021. Sadly VVHP021 was predated sometime later. He and his sister survived to adulthood. Jizzle started to rove with his older brothers and cousins. Jizzle started to visit neighbouring groups and by December he was absent from the group. However Jizzle returned to the group the next month. Jizzle remained in the group for a while, roving time and time again. Jizzle left the group for good in June 2011 with some of his older brothers and cousins and formed with some
Aztecs
Pandora
The new mob called Pandora. One of the females named Snowflake took up female dominance but none of the males established dominance for a few months. Jizzle being the youngest of the males had the least likely chance at taking dominance. However since none of the older males were interested in dominance, Jizzle could have taken the position for himself, but like the other Van Helsing males Jizzle seemed more interested in roving. He roved once or twice almost every month. Jizzle was Last Seen in October 2011 along with Krueger.
Links
Ad blocker interference detected!
Wikia is a free-to-use site that makes money from advertising. We have a modified experience for viewers using ad blockers

Wikia is not accessible if you've made further modifications. Remove the custom ad blocker rule(s) and the page will load as expected.