James Bond
(VEM131)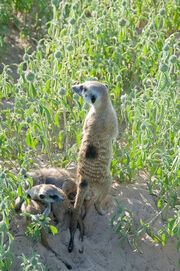 was born in the
Elveera
on April 3, 2008. His mother was
Jo Jo Hello
 and his father was Teabag. His litter-mates were his two sisters
Vidy
(VEF132) and
Nathalie
(VEF133). The Elveera were a small mob but because Jame Bond and his siblings's were the dominant female Jo Jo Hello's pups, the whole group looked after them. James Bond and his two sisters survived to adulthood. Sadly in 2009 disease soon stuck the group killing Jo Jo Hello first. James Bond's older half sister
Chibuku Scub
became the dominant female. His sister Nathalie mated with a rover and gave birth to three pups. James Bond was now an uncle and he helped his sister care for her pups, sadly only one survived In late 2009 the Elveere splinter, only four meerkats remeber while all others disappeared. Sadly he, Chiuku Scud and other three meerkats including Vidy died of TB. James Bond's splinter group was never located and he was Last Seen.
Links
Ad blocker interference detected!
Wikia is a free-to-use site that makes money from advertising. We have a modified experience for viewers using ad blockers

Wikia is not accessible if you've made further modifications. Remove the custom ad blocker rule(s) and the page will load as expected.