Jaffa
(VJXM055)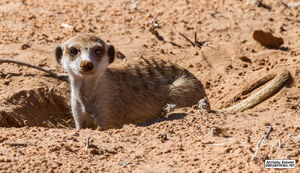 was born in the
JaXX Mob
on Janaury 16, 2012. His mother was
Diana
, the dominant female and his father was an unknown rover. Her litter-mates were his two sisters named
Paddle Pop
(VJXF052) and
Sao
(VJXF053) and one brother named
Tim Tam
(VJXM054). The pups survived their first few weeks and started foraging with the adults. Little happen in the JaXX and no litters were born for a few months, leaving Jaffa and her siblings as the youngest members of the group. In October 2012 a subordinate female named
Bungee
gave birth to a surviving litter. Jaffa wasn't yet old enough to help out much with the new pups. Jaffa started to rove in November at the age of ten months while Sao was evicted in December. Jaffa is still alive today in the JaXX.
Links
Ad blocker interference detected!
Wikia is a free-to-use site that makes money from advertising. We have a modified experience for viewers using ad blockers

Wikia is not accessible if you've made further modifications. Remove the custom ad blocker rule(s) and the page will load as expected.