Izzy Whiskers

Mob(s)

Dominant

No

Date of Birth

September 2, 2006

Date of Death

January 11, 2007

Cause of Death

Unknown

Parents

Flower and Zaphod

Litter-Mate(s)

Suggs and Busta

Mate(s)

None

Children

None

Known For

Flower's last daughter
Whiskers
Izzy(VWF110) was born on September 2, 2006. Her mother was Flower and her father was Zaphod, who were the dominant pair at the time. Her litter-mates were her brothers Busta(VWM111) and Suggs(VWM109). Izzy and her brothers survived as Flower's twelfth litter of pups. Izzy was in the last surviving litter of Flower and Zaphod. Flower only gave birth on more time to Ren and Stumpy on November 20, 2006. Then the Whiskers splint one half was led by Rocket Dog and Mitch the other led by Flower and Zaphod. It is unknown what group Izzy was in. The groups re-united later on.  Izzy did not make it to adulthood and died on January 11, 2007 when she was just four months old. Her death was missed due to the fact that her mother Flower died that same month on January 26, 2007. Izzy's brothers both later formed new groups. Suggs helped formed the Hoax while Busta hepled formed the Aztecs. Busta lived the longest in the Whiskers. Suggs disappeared on September 30, 2007.
Meekat Manor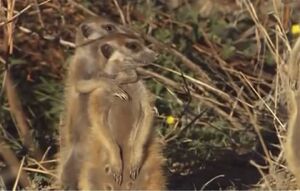 Izzy was featured in Meerkat Manor season three. She played a pup named Izzy, or Lizzie or Liz in some versions and was seen with her brother Suggs and Buter(Busta). Izzy's names was change due to the fact a female named Izzy was seen in the Lazuli but in some versions there were two Izzys, one a Whisker pup and one a Lazuli female. The pups were being babysat by Sophie(Tina Sparkle), Mitch and Jogu. They were seperated from the rest of the Whiskers along with their babysitters for a day. The Zappa(Young Ones) found the babysiting burrow and attacked. Lucky for them the Whiskers located the burrow and saved the pups from the Zappa. Later on she played Lizzie though in some versions she was always called Liz. She was seen with her father Zaphod when he realized he wasn't needed in the Whiskers anymore after Flower's death.
Links
Ad blocker interference detected!
Wikia is a free-to-use site that makes money from advertising. We have a modified experience for viewers using ad blockers

Wikia is not accessible if you've made further modifications. Remove the custom ad blocker rule(s) and the page will load as expected.