Gump
(VWM132) was born on October 14, 2008 in the
Whiskers
.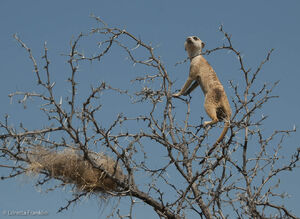 His mother was
Ella
and his father was
Thundercat
. Gump was born in a large litter of six pups, his litter-mates were his two other brothers
Pumplemousse
(VWM134) and
Rozza
(VWM131), and his three sisters
McGee
(VWF130),
Enili
(VWF133) and
Popple
(VWF136). In March 2009, when Gump was only five months old, the Whiskers had an hour long battle with the
Kung Fu
. During the confusion Gump's siblings Pumplemousse and Popple were separated from the rest of the Whiskers. They were never seen again and were believed to have been killed. In August 2009, Gump went roving at 
Toyota
with five Whiskers males, 
Nugget
,
Juno
,
Marico
,
Sabota
and
Savuka
. In December 2009, Gump roved once again at Toyota with his younger brother
Pitio
. The five eldest males left the Whiskers in early 2010, making Gump and his brother Rozza the oldest subordinate males under their father. By this time Gump was starting to rove more often and became one of the biggest rovers from the Whiskers along with Pitio. In late 2010, his sister McGee was evicted and disappared, leaving just Gump, Rozza and Enili as the last of their litter. In mid 2011 Ella lost dominance to Gump's older half sister
Oriole
, who then lost dominance to Enili. In June 2011 Thundercat evicted Gump from the group for an unknown reason, however he allowed Gump to return to the mob. In July 2012 Gump went roving along with his brothers Rozza and Pitio. Together they left the Whiskers for good.