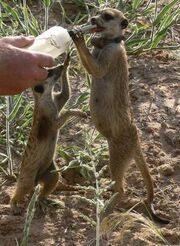 Grubby
(VMMM056) was born on November 2008 in the
Moomins Mob
to subordinate female
Frida
. She give birth to five pups. His litter-mates were his sister
Lydia Teapot
(VMMF055) and three brothers
McGirky
(VMMM053),
Beezelle
(VMMM054), and
Whitson
(VMMM057). This wasn't Frida's first litter. She already had three daughters from her first litter:
Sexi Plexi
(VMMF046),
Bubble Toes
(VMMF048) and
Elian
(VMMF049). In April 2009 dominant female
Grumpy
gave birth to six pups. Then her daughter
Hemulen
over threw her and took dominant female position away from her mother. Grumpy died two months later. Then in July 2009 Hemulen evicted Grubby's mother Frida and aunts
Regopstaan
and
Misable
. His older sister Sexi Plexi disappeared. The females are thought to have joined a new group with wild males. Grubby and his siblings make up most of the Moomins mob. In March 2010, Hemulen died of
Tuberculosis
. Now the position of dominant female is open to his sisters Bubble Toes, Elian and Lydia Teapot. He and his brothers are the oldest males in the group. Grubby and his siblings are nearly a year and a half old now. He may take to roving soon with his brothers. However the Moomins disappeared since Hemulen wore the radio collar. He and his brothers might reapeare as rovers at others mob one day.
Family
Mother: Frida.
Father: Maybe Leonardo, Donatello, Raphael or Michelangelo.
Sisters: Lydia Teapot.
Brothers: Beezelle, McGirky and Whitson.
Links
Ad blocker interference detected!
Wikia is a free-to-use site that makes money from advertising. We have a modified experience for viewers using ad blockers

Wikia is not accessible if you've made further modifications. Remove the custom ad blocker rule(s) and the page will load as expected.